Faktor-faktor yang Memengaruhi Niat Pembelian Produk Pangan Organik : Sebuah Studi Literatur
Keywords:
faktor pembelian, pangan organik, studi literatur
Abstract
Pasar produk pangan organik mulai tumbuh selama pandemi covid-19. Jumlah produsen juga ikut tumbuh karena dianggap menguntungkan dan menjadi peluang bagi produsen baru untuk ikut mencoba menyediakan produk pangan organik. Tujuan penelitian ini adalah menyintesis temuan-temuan tentang faktor-faktor yang memengaruhi niat pembelian produk pangan organik. Data diperoleh dari studi literatur jurnal nasional dan internasional sejumlah dua puluh delapan jurnal yang relevan dengan judul. Faktor-faktor yang umumnya memengaruhi niat pembelian produk pangan organik terdiri atas harga, motivasi sehat, karakteristik produk, sikap, distribusi, kepedulian pada lingkungan dan norma subjektif.
Downloads
Download data is not yet available.
References
Abadi, F., & Herwin, H. (2019). Pengaruh Harga, Kualitas Produk Dan Kualitas Pelayanan Terhadap Keputusan Pembelian Beras Organik Di Jakarta. Jurnal Riset Manajemen Dan Bisnis (JRMB) Fakultas Ekonomi UNIAT, 4(1), 1–8. https://doi.org/10.36226/jrmb.v4i1.235
Agustina, T. (2004). Analisis perilaku konsumen beras organik di kabupaten jember. Titin Agustina, vol 5 no 3, 15–21.
Ajzen, I. (2005). Attitudes, Personality and Behavior 2nd Edition. Berkshire, UK: Open University Press-McGraw Hill Education.
Asif, M., Xuhui, W., Nasiri, A., & Ayyub, S. (2018). Determinant factors influencing organic food purchase intention and the moderating role of awareness: A comparative analysis. Food Quality and Preference, 63, 144–150. https://doi.org/10.1016/j.foodqual.2017.08.006
Aufanada, V., Ekowati, T., & Prastiwi, W. D. (2017). Kesediaan Membayar Produk Sayuran Organik di Pasar Modern Jakarta Selatan. AGRARIS: Journal of Agribusiness and Rural Development Research, 3(2), 67–75.
Balai Pengkajian Teknologi Pertanian Sulawesi Utara. (2016). Pertanian Organik Penting untuk Masa Depan Bangsa. Https://Sulut.Litbang.Pertanian.Go.Id/. https://sulut.litbang.pertanian.go.id/index.php/info-teknologi/hortikultura/106-infoteknologi4/717-pertanian-organik-penting-untuk-masa-depan-bangsa
Chakrabarti, S. (2010). Factors influencing organic food purchase in India - expert survey insights. British Food Journal, 112(8), 902–915. https://doi.org/10.1108/00070701011067497
Chu, K. M. (2018). Mediating influences of attitude on internal and external factors influencing consumers' intention to purchase organic foods in China. Sustainability (Switzerland), 10(12), 1–15. https://doi.org/10.3390/su10124690
David, W., & Ardiansyah. (2017). Perceptions of young consumers toward organic food in Indonesia. International Journal of Agricultural Resources, Governance and Ecology, 13(4), 315–324. https://doi.org/10.1504/IJARGE.2017.088373
Ekawati, T. (2020). Kajian faktor-faktor yang mempengaruhi niat beli produk organik. Journal of Business and Information Systems (e-ISSN: 2685-2543), 2(1), 32–45. https://doi.org/10.36067/jbis.v2i1.35
Hendrani, Y., Ph, D., Susanto, S., Suroso, D. P. C., Reg, L. R., Anna, D., & Poerbonegoro, F. (2014). PERDAGANGAN PRODUK ORGANIK : VALUE CHAINS DAN DETERMINAN KEPUTUSAN KONSUMEN MEMBELI PRODUK ORGANIK Disusun Oleh : Lembaga Penelitian dan Pengabdian kepada Masyarakat Universitas Katolik Parahyangan.
Jitrawang, P., & Krairit, D. (2019). Factors Influencing Purchase Intention of Organic Rice in Thailand. Journal of Food Products Marketing, 25(8), 805–828. https://doi.org/10.1080/10454446.2019.1679690
Junaedi, M. F. S. (2005). Pengaruh Kesadaran Lingkungan Pada Niat Beli Produk Hijau : Studi Perilaku Konsumen Berwawasan Lingkungan. Benefit: Jurnal Manajemen Dan Bisnis, 9(2), 189–201.
Kavaliauskė, M., & Ubartaitė, S. (2014). Ethical Behaviour: Factors Influencing Intention To Buy Organic Products in Lithuania. Economics and Management, 19(1), 72–83. https://doi.org/10.5755/j01.em.19.1.4991
Kotler, P. dan Armstrong, G. (2008). Prinsip-Prinsip Pemasaran Edisi ke-12 Jilid 1. Jakarta: Erlangga.
Kotler, P. dan Keller, KL. (2009). Manajemen Pemasaran Edisi ke-13 Jilid 1. Jakarta: Erlangga.
Manalu, V. G., Manajemen, P. S., Ekonomi, F., Kuningan, U., Kuningan, K., Produk, P., Lingkungan, R., & Organik, P. P. (2020). Green Product Purchase Intention in Indonesia : Theory Planned. 4(2).
Melovic, B., Cirovic, D., Dudic, B., Vulic, T. B., & Gregus, M. (2020). The analysis of marketing factors influencing consumers' preferences and acceptance of organic food products—recommendations for the optimization of the offer in a developing market. Foods, 9(3). https://doi.org/10.3390/foods9030259
Mohamad Salleh, M., Ali, S. M., Harun, E. H., Jalil, M. A., & Shaharudin, M. R. (2010). Consumer ' s Perception and Purchase Intentions Towards Organic Food Products : Exploring Attitude Among Academician. Canadian Social Science, 6(6), 119–129.
Muliasari, R. M. (2016). Pengaruh Bauran Pemasaran Terhadap Kepuasan Konsumen Roti Merek Sari Roti. Institut Pertanian Bogor.
Muzayanah, F. N., Suroso, A. I., & Najib, M. (2015). Faktor-faktor yang Memengaruhi Resistensi Pembelian Pangan Organik dan Proses Pendidikan Konsumen. Jurnal Manajemen Dan Agribisnis, 12(3), 163–173. https://doi.org/10.17358/jma.12.3.163
Novandari, W. (2011). Analisis Motif Pembelian dan Profil Perilaku "Green Product Customer" (Studi pada Konsumen Produk Pangan Organik di Purwokerto). JEBA UNSOED : jurnal ekonomi, bisnis dan akuntansi, 13(1), 9-16. https://doi.org/10.32424/jeba.v13i1.346
Organic Institute, Yayasan Alifa & Kombas.id. (2020). Statistik Pertanian Organik Indonesia 2019. Bogor: Aliansi Organis Indonesia.
Pandey, D., Kakkar, A., Farhan, M., & Khan, T. A. (2019). Factors influencing organic foods purchase intention of Indian customers. Organic Agriculture, 9(4), 357–364. https://doi.org/10.1007/s13165-018-0240-z
Peraturan Menteri Pertanian Nomor 64/Permentan/OT.140/5/2013 tentang Sistem Pertanian Organik, Pasal 1 Ayat 3
Pusat Sosial Ekonomi dan Kebijakan Pertanian. (2020). Efek Positif Corona: Permintaan Sayur Organik Melonjak. Http://Pse.Litbang.Pertanian.Go.Id/. http://pse.litbang.pertanian.go.id/ind/index.php/covid-19/berita-covid19/421-efek-positif-corona-permintaan-sayur-organik-melonjak
Ramdhani, N. (2016). Penyusunan Alat Pengukur Berbasis Theory of Planned Behavior. Buletin Psikologi, 19(2), 55–69. https://doi.org/10.22146/bpsi.11557
Risyamuka, I. K., & Mandala, K. (2015). Pengaruh Green Marketing terhadap Keputusan Pembelian Produk Hijau di Restoran Sari Organik Ubud. E-Jurnal Manajemen Universitas Udayana, 4(2). ISSN 2302-8912. Available at: https://ojs.unud.ac.id/index.php/Manajemen/article/view/10803
Setiawan, A., Zakaria, W. A., & Indriani, Y. (2016). perilaku Konsumen Dalam Pembelian Beras Organik Produksi Kabupaten Pringsewu. Jurnal JIIA, 4(2), 192–199.
Singh, A., & Verma, P. (2017). Factors influencing Indian consumers' actual buying behaviour towards organic food products. Journal of Cleaner Production, 167, 473–483. https://doi.org/10.1016/j.jclepro.2017.08.106
Suardika, M. P., Ambarawati, G. A. A., & Sukaatmadja, P. (2014). Analisis perilaku konsumen terhadap keputusan pembelian sayur organik cv golden leaf farm bali. Jurnal Manajemen Agribisnis, 2(1), 1–10.
Sugiyanta & Aziz, S. A. (2016). Beras dan Tanaman Pangan Organik Lainnya. Bogor: IPB Press.
Sumarwan, U. (2011). Perilaku Konsumen: Teori dan Penerapannya dalam Pemasaran Edisi ke-2. Bogor: Ghalia Indonesia.
Sutarni, S., Trisnanto, T. B., & Unteawati, B. (2018). Preferensi Konsumen Terhadap Atribut Produk Sayuran Organik di Kota Bandar Lampung. Jurnal Penelitian Pertanian Terapan, 17(3), 203. https://doi.org/10.25181/jppt.v17i3.337
Syukur, M., & Melati, M. (2016). Pengembangan Sayuran Organik. Hal 175-192 dalam Buku Pengembangan Pertanian Organik di Indonesia. IPB Press, cetakan pertama, April 2016
Wang, X., Pacho, F., Liu, J., & Kajungiro, R. (2019). Factors influencing organic food purchase intention in Tanzania and Kenya and the moderating role of knowledge. Sustainability (Switzerland), 11(1). https://doi.org/10.3390/su11010209
Wibowo, H. & Husnain. (2015). Sertifikasi Dan Pasar Pertanian Organik.
Widyastuti, P. (2018). Kualitas dan Harga sebagai Variabel Terpenting pada Keputusan Pembelian Sayuran Organik. Ekspektra : Jurnal Bisnis Dan Manajemen, 2(1), 17. https://doi.org/10.25139/ekt.v2i1.675
Zuchdi, D. (1995). Pembentukan Sikap. Jurnal Cakrawala Pendidikan, 3(3), 51–63. https://doi.org/10.21831/cp.v3i3.9191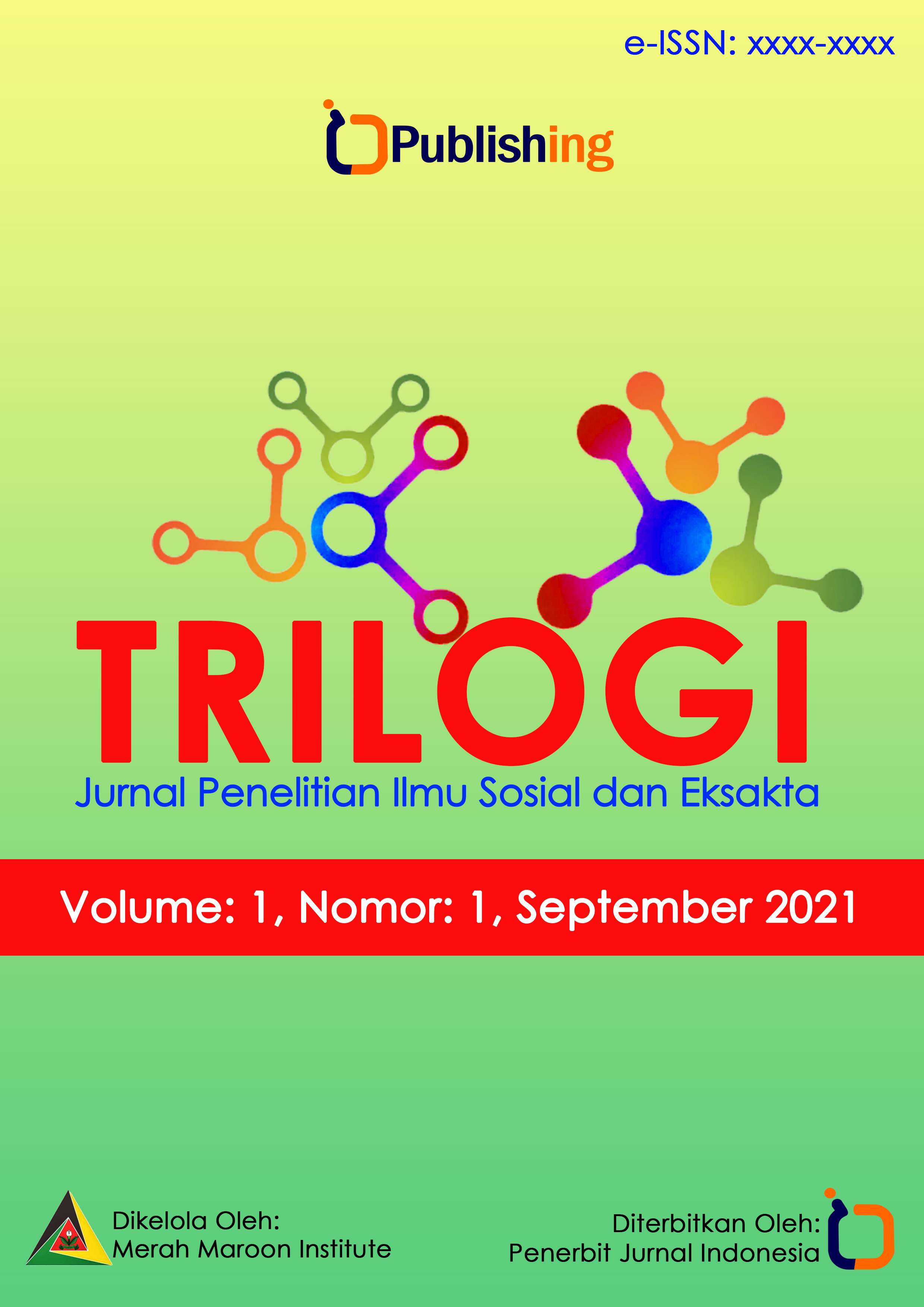 Downloads
License
Copyright (c) 2021 Risa Martha Muliasari, Anisa Nurina Aulia, Andika Putra Setiawan, Indah Ibanah (Author)
This work is licensed under a Creative Commons Attribution 4.0 International License.