Melalaikan Tanggung Jawab Sebagai Bentuk Ingkarnya Laki-Laki Merawat Komitmen Perkawinan
Keywords:
Mengingkari komitmen, Laki-Laki, Perkawinan
Abstract
Penelitian ini mendeskripsikan ingkarnya laki-laki dalam merawat komitmen perkawinan. Melalaikan tanggung jawab dalam bentuk penelantaran seperti tidak memberikan nafkah kepada istri dan anak, meninggalkan rumah dalam waktu yang lama serta malas bekerja menjadi pemicu ketidakharmonisan dalam rumah tangga. Pada penelitian terdahulu, didapati bahwa laki-laki membutuhkan penyesuaian dalam perkawinan agar dapat melanggengkan komitmen. Penyesuaian dipandang sebagai salah satu cara untuk merealisasikan komitmen. Penelitian ini menjadikan putusan hukum Pengadilan Agama Bukittinggi sebagai data skunder dalam pengumpulan data. Metode yang digunakan adalah kualitatif. Data diperoleh melalui salinan perkara di putusan3 Mahkamah Agung tentang putusan perceraian dengan melibatkan 3 pasangan suami istri yang memiliki usia perkawinan rentang 5-18 tahun. Penelitian ini mengungkapkan bahwa penyesuaian yang lama dalam menjalani perkawinan tidak dapat dijadikan indikator berhasilnya pasangan suami istri merawat komitmen. Tidak adanya rasa tanggung jawab pada masa perkawinan yang baru atau lama sekalipun dapat berpotensi pada pilihan mengakhiri perkawinan. Konsep diri positif merupakan faktor internal yang menentukan intensitas komitmen terhadap perkawinan. Konsep diri ini dapat tergambar pada peran dan komitmen laki-laki yang dijalaninya sebagai individu yang otonom bagi dirinya sendiri, suami dari seorang istri dan ayah bagi anak
Downloads
Download data is not yet available.
References
Adi, W. M., & Lestari, M. D. (2019). Gambaran komitmen dalam pernikahan pasangan remaja yang mengalami KTD. Jurnal Psikologi Udayana, 6(1), 805–881.
Coltrane, S., Miller, E. C., Dehaan, T., & Stewart, L. (2013). Fathers and the Flexibility Stigma. Journal of Social Issues, 69(2), 279–302. https://doi.org/10.1111/josi.12015
Connell, R. W. (1995). Masculinities. University of California Press.
Doucet, A. (2013). Gender Roles and Fathering. In N. J. Cabrera & C. S. Tamis-Lemonda (Eds.), Handbook of father involvement: Multidisciplinary perspectives. Routledge.
Fadhli, A. (2012). Membangun ketahanan keluarga melalui penguatan pondasi agama. Jurnal Momentum, 2(2), 53–64.
Fatimah, S. (2018). Hubungan cinta komitmen dengan kepuasan pernikahan dimoderatori oleh kebersyukuran. Psikodimensia, 17(1), 26–35.
Forsberg, H. (2005). Finland's Families. In B.N. Adams & J. Trost (Ed.), Handbook of World Families.
Hilal, A. H., & Alabri, S. S. (2013). Using NVivo for data analysis in qualitative research. International Interdisciplinary Journal of Education, 2(2), 181–186.
Islami, T. P., & Khairulyadi, K. (2017). Kekerasan Dalam Rumah Tangga Oleh Suami Terhadap Istri Menurut Perspektif Relasi Gender. Jurnal Ilmiah Mahasiswa Fakultas Ilmu Sosial & Ilmu Politik, 2(2), 985–1010.
Latifatunnikmah, L., & Lestari, S. (2017). Komitmen pernikahan pada pasangan suami istri bekerja. Humanitas, 14(2).
Maria, C., & Andamari, S. (2019). Perbandingan Komitmen Perkawinan antara Laki-Laki dan Perempuan yang sudah Menikah di Bandung. Humanitas, 3(3).
Miettinen, A., & Rotkirch, A. (2012). Looking for Family Time. Families' Time Use in the 2000s. Väestöliitto.
Petts, R. J., & Knoester, C. (2018). Paternity leave‐taking and father engagement. Journal of Marriage and Family, 80(5), 1144–1162.
Pragg, B., & Knoester, C. (2017). Parental leave use among disadvantaged fathers. Journal of Family Issues, 38(8), 1157–1185.
Risman, B. J. (2004). Gender As a Social Structure: Theory Wrestling with Activism. Gender and Society, 18(4), 429–450. https://doi.org/10.1177/0891243204265349
Rusbult, C. E. (1980). Commitment and satisfaction in romantic associations: A test of the investment model. Journal of Experimental Social Psychology, 16(2), 172–186.
Santrock, J. W. (2011). Children (10th ed.). McGraw-Hill Company.
Shafer, K., Petts, R. J., & Renick, A. J. (2019). Religious variability in the relationship between masculinity and father involvement. Journal for the Scientific Study of Religion, 58(2), 378–397.
Swann Jr, W. B., Hixon, J. G., & De La Ronde, C. (1992). Embracing the bitter "truth": Negative self-concepts and marital commitment. Psychological Science, 3(2), 118–121.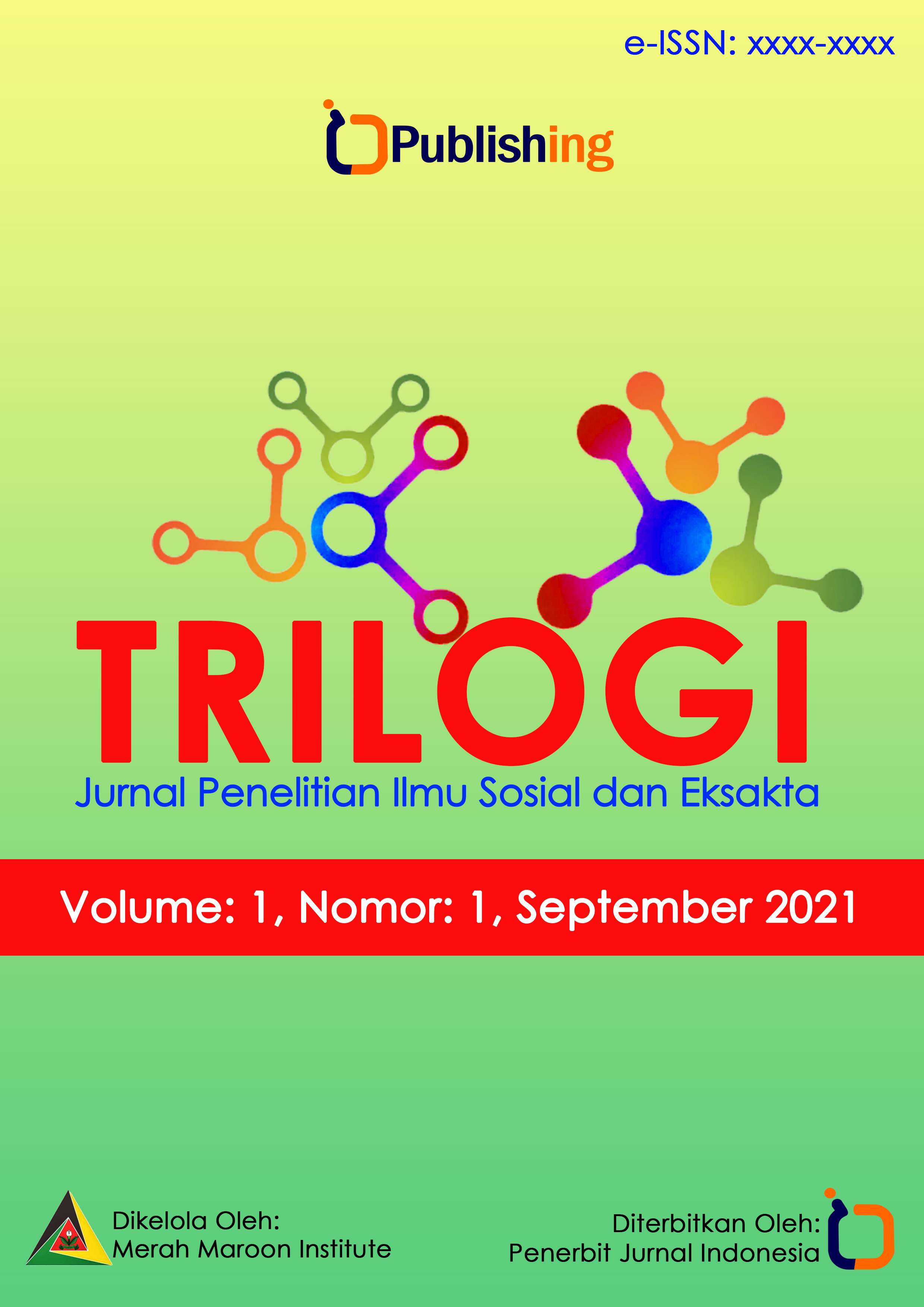 Downloads
How to Cite
Ashabul Fadhli. (2021). Melalaikan Tanggung Jawab Sebagai Bentuk Ingkarnya Laki-Laki Merawat Komitmen Perkawinan. Jurnal Penelitian Ilmu Sosial Dan Eksakta, 1(1), 35–46. https://doi.org/10.47134/trilogi.v1i1.10
License
Copyright (c) 2021 Ashabul Fadhli (Author)
This work is licensed under a Creative Commons Attribution 4.0 International License.